See
Airwall Edge Service

Information and Status
Supported Versions

2.2.8 and later
There are several ways to see information and status on the

Airwall Edge Services

connecting to your

Airwall secure network

.

All of the information and status for an Airwall Edge Service is shown when you select one to display its page. Some of that information is also available on the Dashboard and Airwalls page listings.

The following sections cover where to find some of the most commonly-needed information.
Airwall

Status, Model, and Firmware

The Status column and field display information such as whether the Airwall Edge Service is Enabled (provisioned and managed), Unmanaged, or Revoked, and the progress of firmware updates.

Note:
Expanded status messages are available in
Conductor
v2.2.10 and later.
The Model column and Model and Firmware on an Airwall Edge Service page shows what kind of Airwall Edge Service it is and what version of the firmware it is currently running.
Most of the statuses are self-explanatory. For details, see Airwall Edge Service Statuses.
Where to See Status and Information
The following sections show different ways you can see status for one or multiple Airwall Edge Services.
On the Dashboard
The Conductor Dashboard has several ways to see what Airwall Edge Services are connecting, and what their status is.
The Airwall Donut Graph – On both the

Airwall

models and

Airwall

versions graphs, click on a donut section to see what

Airwalls

are that model or have that version installed in the

Navigation

Airwall edge services

section.

System stats – Click on any stats tile to see more details

Navigation

Airwall edge services

section.
On an
Airwall Edge Service

page

Open an Airwall Edge Service to see more detailed status and information.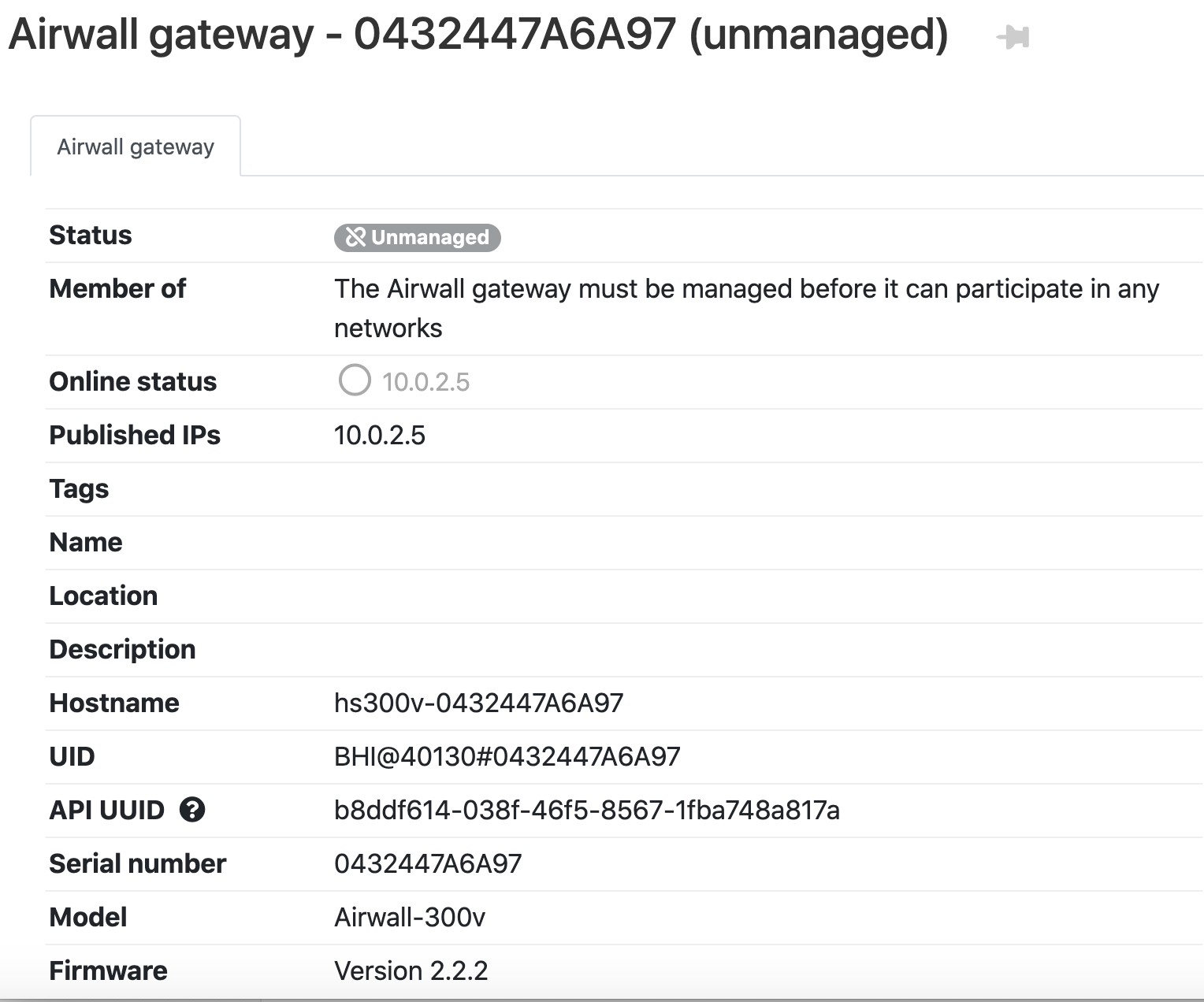 Depending on what type of Airwall Edge Service you're looking at, you may have additional tabs on this page. For example, for Airwall Gateways, the tabs are:
Airwall gateway

– General information about the

Airwall Gateway

Local devices

– Lists the devices protected by the

Airwall Gateway

.

Ports

– Port configuration, failover settings, and port mirroring configuration for the

Airwall Gateway

.

Diagnostics

– Diagnostic tools and reports for the

Airwall Gateway

.

Reporting

– Graphs, Health data, and Traffic and HIP tunnel stats for the

Airwall Gateway

.

Intrusion prevention

– Settings to help monitor and alert about intrusions into your network. These monitors can impact

Conductor

performance.

HA

– Where you set up high-availability

Airwall Gateways

. For more information, see Airwall Edge Service High Availability (HA).

Airshell

– Gives you the ability to send

Airshell

commands to the

Airwall Gateway

remotely from the

Airwall Conductor

. For more information, see Run Airshell remotely from the Conductor.